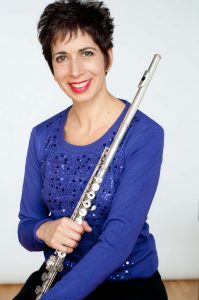 Laura Nashman is a Canadian, award-winning flutist and music producer. For over 30 years, she has been playing flute, recording and producing music and helping animals. Her gold CD, Lullababy, with pianist John Alonso has put over a quarter of a million babies to sleep over the years. She created a concert series called "An Elegant Affair" with John at the Heliconian Hall in Toronto for over 5 years. She has travelled and toured with her music internationally.
She has also visited the Elephant Nature Park in Chiang Mai, Thailand and played flute for rescued Asian elephants. She learned that high notes were to be avoided if stampeding elephants were to also be avoided. With various Canadian musician friends, Laura produced Elephant Fundraisers at unique locations in Toronto upon her return from Thailand. Her music training included: Bachelor of Music in Flute Performance from the University of Toronto, Faculty of Music, many masterclasses with British flutists William Bennett and Geoffrey Gilbert.
Her music label, Spa-la-la, offers instrumental music with collaborative Canadian musicians, such as guitarist Bill Bridges, pianist John Alonso, multi-instrumentalist and sound healer Michael Moon and others. As an animal lover, Laura took her Pomeranian therapy dog, Ito, to the Toronto Grace Hospital for 5 years for pet therapy services.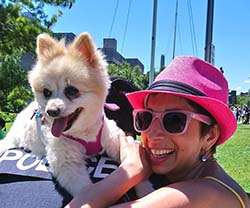 As a retired therapy dog, Ito has starred in the one minute short, Ito's Toronto, which was a prize winner at the TUFF, (Toronto Urban Film Festival 2010) and was awarded, Most Ambitious Film by a Female Director, chosen by acclaimed filmmaker Deepah Mehta.
She also paints abstract art entitled "Spa-on-the-Canvas" ~ a style she creates in an improved fashion that evokes blissful emotions and serenity.
Laura is actively performing flute and working on her first documentary, Dinner Music.
Spa-on-the-Canvas