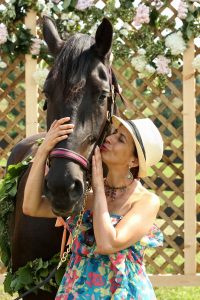 All my life, I have loved animals and music but I never dreamed I'd be able to use my passion for music to help bring awareness to the plight of my beloved animals.
As a young girl, I was lucky enough to ride horses. At age thirteen, when I literally met the 5 foot wall on my favourite horse, Skippy, I decided to quit riding and start up music-become a professional flutist.
I noticed the intersection between communicating with a horse gently, skillfully, and intuitively and learning to play the flute with technical dexterity, sonorous tonality and imagination. "Never force" was always the motto both on horseback and playing flute.
Fast forward to my many years of entertaining clients at fancy dinners where guests were offered hors d'oeuvres that mimicked works of art. Precious little finger foods disguising their painful history.
Today after 21 years of being vegetarian, I've taken my flute from the banquet to the barnyard and realized while playing for Charlotte the 13 year old, 750 pound pig, and for many other farm animals, that they do experience many emotions. Like Charlotte, they are curious, inquisitive, engaged and interested. They are sentient beings.
Sadly over 7 billion animals are raised to die each year. The factory-farming increases the C02's in the environment and leaves so many animals mistreated both in their raising, their transportation to slaughter and the slaughter itself.
It is my goal through "Dinner Music" to create a new perspective about farmed animals and hopefully a new way for us that results in a better life for our dear animals.
May I thank you in advance for consideration your contribution to "Dinner Music" a documentary in development about the animals and for the animals.
With loving regards,
Laura Nashman